Adrenal Fatigue
Are you affected by adrenal fatigue? Find out how you can support your adrenal glands.
Prolonged emotional stress, poor sleep quality, blood sugar fluctuations, and inflammation can cause adrenal fatigue.
Adrenal fatigue is manifested in three stages.
Stage 1 of adrenal fatigue is very gradual and insidious.
It's caused by a prolonged stimulus to the adrenal glands, an increase in cortisol output, and a decrease in DHEA level. In this stage, estrogen, progesterone, and testosterone levels are also altered, which in turn affect the immune system and the metabolic rate.
Stage 2 of adrenal fatigue, your cortisol level continues to decline throughout the day but goes up in the evening.
DHEA level declines as well. In this phase of adrenal fatigue, the patient may develop depression, sweet cravings, decreased sex drive, insomnia, poor memory, anxiety, premenstrual syndrome, weakened immune response, recurrent infections, unexplained nervousness or irritability, inability to lose or gain weight, and joint or muscle pain.
Stage 3 of adrenal fatigue occurs when adrenals fail to meet the demands and are no longer able to produce cortisol.
In this crash phase, evening cortisol level is also very low. Several other hormonal imbalances occur in this stage as well. In this phase chronic fatigue occurs and the individual is unable to perform routine daily activities or work-related duties.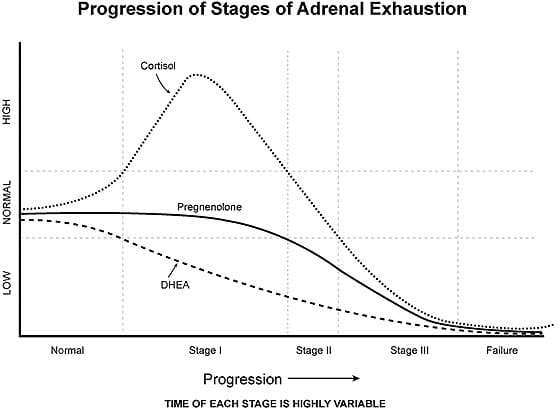 This diagram illustrates the common pattern of the hormone cortisol through the stages of adrenal exhaustion. The total cortisol sum as measured in nano molars (nM) is shown to rise then fall as the stages of exhaustion progress from left to right.
Adrenal Function Evaluation
Cortisol level is evaluated through collections of 4 saliva samples: upon awakening, lunchtime, mid-afternoon, and before bedtime. Neurotransmitters such as Serotonin, Epinephrine, Norepinephrine, Dopa, GABA, Glutamine are evaluated through a urine test.
Treatment for adrenal fatigue
At Health and Vitality Center one of the ways we support the adrenal glands is through IV vitamin therapy.
For stage 1 of adrenal fatigue, Dr. Lalezar would recommend the Myers' Cocktail, a Vitamin IV therapy of Magnesium and B Vitamins to calm the adrenals, reduce production of cortisol and alleviate stress.
For stage 2 and 3 of adrenal fatigue, we use Vitality drip which consists of 15-30 grams of vitamin C, minerals, B vitamins, Zinc, Chromium, Magnesium, and Calcium.
Additionally, we may recommend IV Glutathione which consists of three amino acids and is a very powerful antioxidant to support the adrenal glands.  Different oral supplements may also be recommended for different stages of Adrenal Insufficiency.
As a last resort, Dr. Lalezar may prescribe physiologic doses of Hydrocortisone to help heal the adrenal glands. Please refer to Dr. William Jeffries's book "Safe Uses of Cortisol."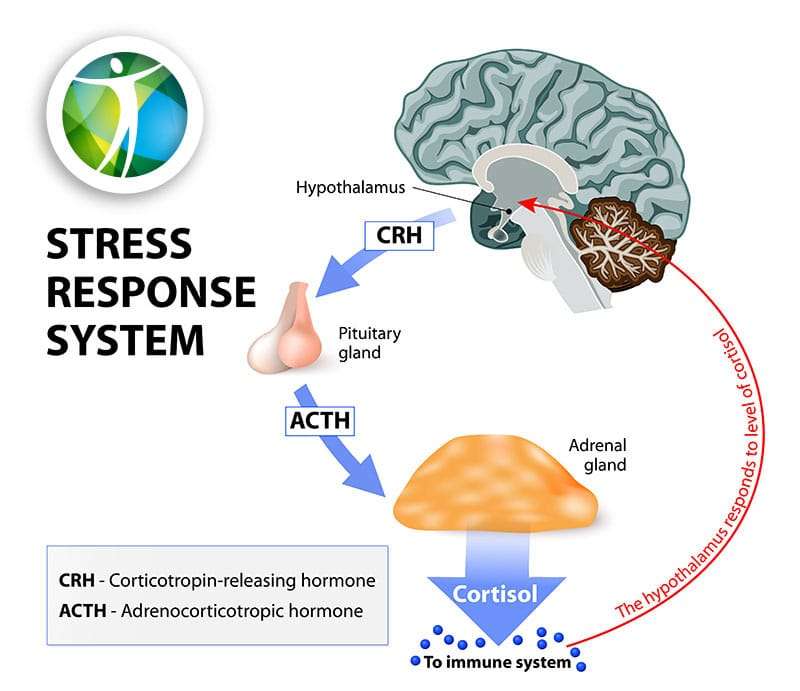 How do I find out more about Adrenal Fatigue?
Call the Health & Vitality Center at 310-477-1166 or click here to schedule an appointment. We are one of the leading centers for natural medicine in Los Angeles. Holistic doctor Shiva Lalezar not only treats adrenal fatigue, she employs methods that prevent it from negatively impacting your everyday life.
Our practice uses an integrative approach, combining the best conventional therapies with the latest techniques and treatments in Functional Medicine for optimal results.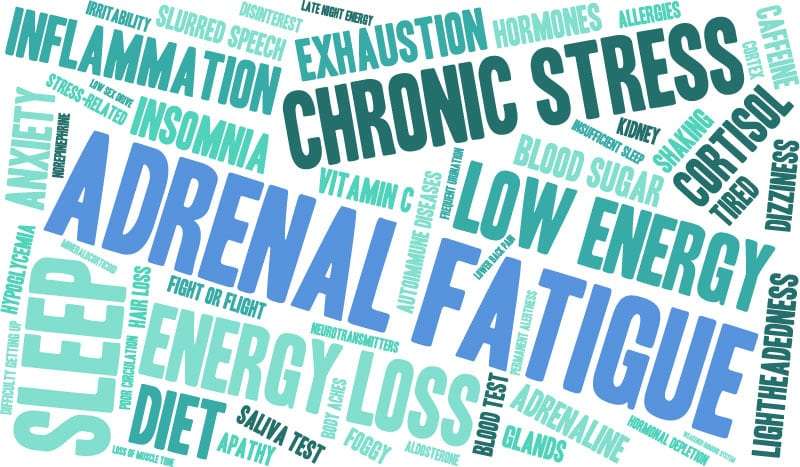 Testimonials that say a lot!
"Dr. Lalezar, just a note to thank you for the chelation treatments, which have made a major difference in my health! All of your services are really excellent but the chelation in particular is fantastic."
"Ever since I have been seeing Dr. Lalezar, my overall health has improved 100%. Dr. Lalezar's techniques and methods have helped me lose over 60lbs and maintain the weight loss. I have not felt this healthy and young in years."
"Dr. Lalezar has changed my life. Before I became her patient, I consulted with several doctors, but to no avail. After being treated by Dr. Lalezar, all of that changed."
"She literally has changed my life both psychologically and physically. Her advice along with her treatments works so well that I have a totally different life now."
"Five years ago, I couldn't even walk and now I am dancing! YES – GO TO DR. LALEZAR! She is the best physician in Los Angeles (and maybe the world)!"
"Dr. Lalezar is the best! She helped me recover from Hashimoto's thyroiditis and I am feeling the best I have in 14 years. I cannot recommend her enough!"
"I went to Dr. Lalezar frustrated that after having seen 4 specialists. No one could figure out what was wrong with my thyroid. Well, she did in the first 10 minutes I met her. I highly recommend Dr Lalezar."
"I have my Dr. Lalezar to thank for my life and my health. I spent probably over $100,000 over the years looking for answers only to be told it was all in my head. I am so grateful. If I hadn't found her, I can't imagine where I'd be."
"I feel better than I have felt in years thanks to Dr. Lalezar. I had been to other doctors … She has prescribed balancing hormones and various minerals and micronutrients to get me feeling better than ever. Those, along with chelation IVs have made incredible transformations in my health."
A Note to Medical Professionals:
We often collaborate with a variety of physicians' practices on puzzling, challenging and complex medical conditions and we welcome the opportunity for CROSS-REFERRALS.
Internists • Dentists • Dermatologists • Gastroenterologists • Rheumatologists • OB/GYNs • Urologists • Infertility Specialists